6 Nights: Extreme Adventure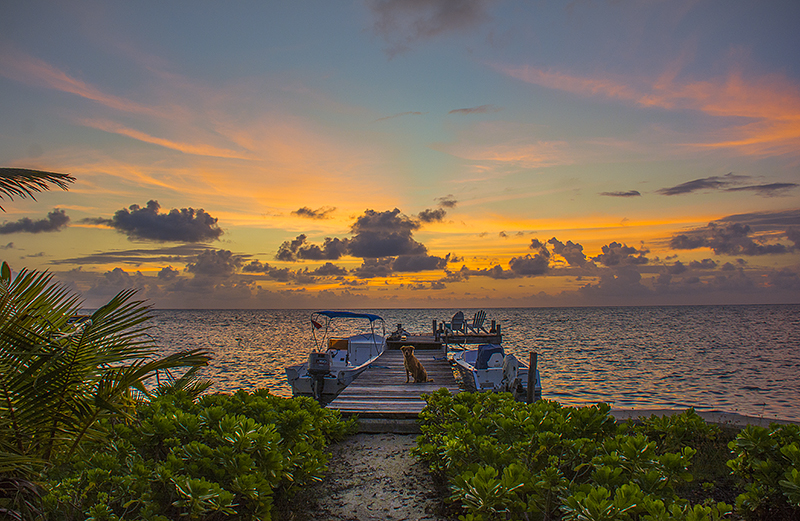 All Inclusive Belize Vacation Itinerary:
6 night 'Extreme Adventure' Package
Are you ready for a big adrenaline rush? Then this trip is the one for you!!! We've carefully selected the most exciting tours available in Belize today and created an action-packed adventure holiday, offering true variety and exhilaration. From diving at the world-famous Blue Hole to abseiling down a sinkhole and from wreck diving to jungle horse rides and nighttime jungle walks, this is the way to experience Belize's breath-taking diversity. Please note that this trip is not suitable for children under the age of 12. You will need to be of an average to good fitness level, although the activities are easy enough for most people to handle. If you are not a certified diver, let us know. We can create an alternative itinerary for those preferring to go snorkeling.
**Upgrade available to Cave Tubing and Zip Line Adventure on Day 4**
All Inclusive Belize Vacation Itinerary
Day 1: Airport transfer, free afternoon. After dinner, a guided night-time jungle walk. Will the wildlife show their faces?
'Black hole drop' rappelling adventure
Day 2: After breakfast you'll be hiking (1 hour walk) to a 300 feet sinkhole, 200 feet above the rainforest canopy that grows out from the basin for the Black Hole Drop Caving Adventure. After an exhilerating abseil down into the jungle canopy (and listening to your own screams echoing back at you), a mouthwatering picnic & the discovery of the 'the Mother of all Caves'. We end the trip by a short climb and hike back.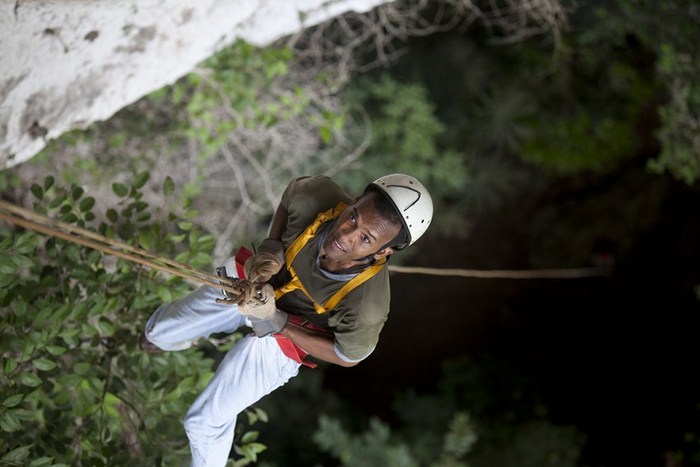 Actun Tunichil Muknal (ATM) Cave
Day 3: Your chance to explore the Mayan underworld at Actun Tunichil Muknal, the cave of the Stone Sepulchre. An old place of sacrifies, there are Mayan remnants in the form of pottery and skulls! To get to Actun Tunichil Muknal, we'll have to walk through the jungle for 45 minutes and swim into the entrance of the cave.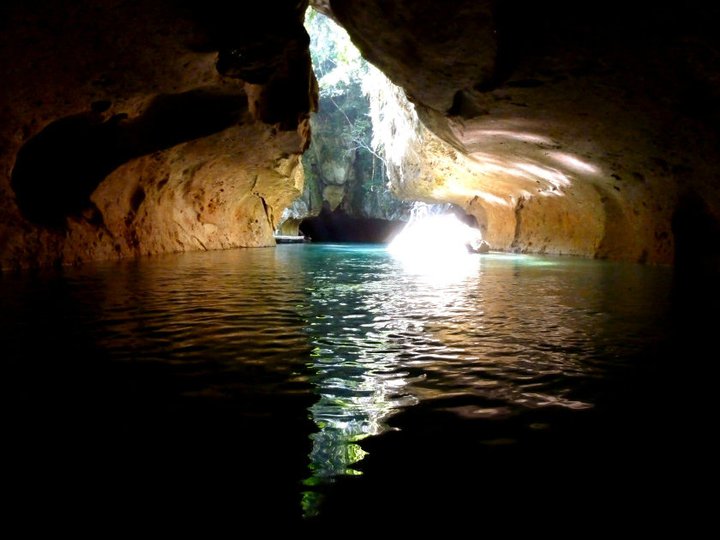 Jungle Horseback Riding Adventure
Day 4: Our final trip into the Belizean jungle will be on Horseback. Up and down hills, wading through the rivers and galloping through the open farmland on our way back. Whether you're an experienced rider or on a horse for the first time in your life, you'll love this trip! Our experienced wranglers will have you do stuff you never realized you could. **Day 4 Alternative Itinerary – Upgrade to the Cave Tubing and Zip Line Adventure Tour for an additional $120.00 USD including Tax**. After lunch, transfer back to Belize City, short flight to San Pedro. Free afternoon on the beach.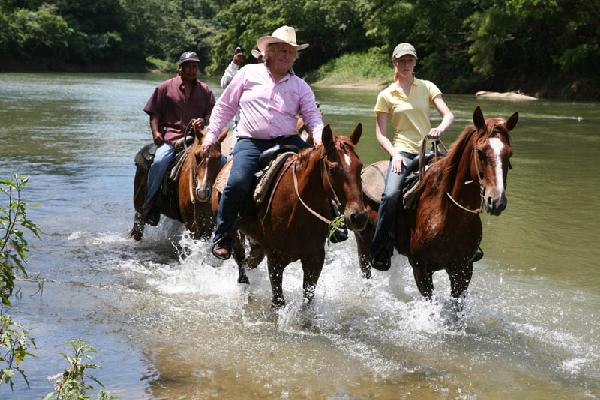 Scuba diving at the Blue Hole or snorkel trip
Day 5: Scuba Diving at the famous Blue Hole, one of the most exciting dive sites in the world. The blue hole is a limestone sinkhole, which is almost perfectly round. It is over 1000 feet across and over 400 feet deep. Once you reach levels below 110 feet you begin to see the stalactites that are the roof of this monstrous cave. This is an all-day 3-tank dive and includes breakfast, lunch, drinks and snacks.

For non-certified divers this trip can be swapped for Morning Swimming with Nurse Sharks and Sting Rays followed by Hol Chan Marine Reserve Snorkeling Trip. Afternoon trip watching the graceful Manatees and searching for Sea Horses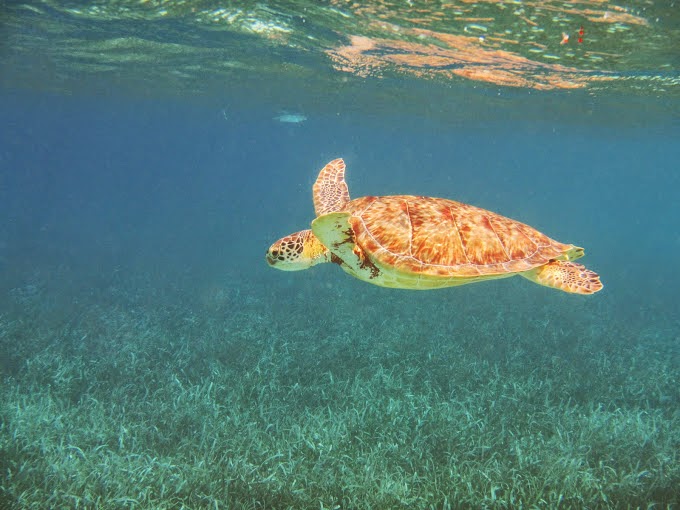 Belize Scuba Diving/snorkeling
Day 6: 2 tank Scuba Diving Trip where the Belize reef marine life is abundant, with a variety of stingrays, sharks, groupers and other tropical fish, barrel sponges and Coral. This is a 2-tank dive and includes lunch. Again, for non-divers, this trip can be swapped for a snorkel day-trip.
Last day on the beach
Day 7: Final morning on the beach before heading out to the International Airport for your return flight home.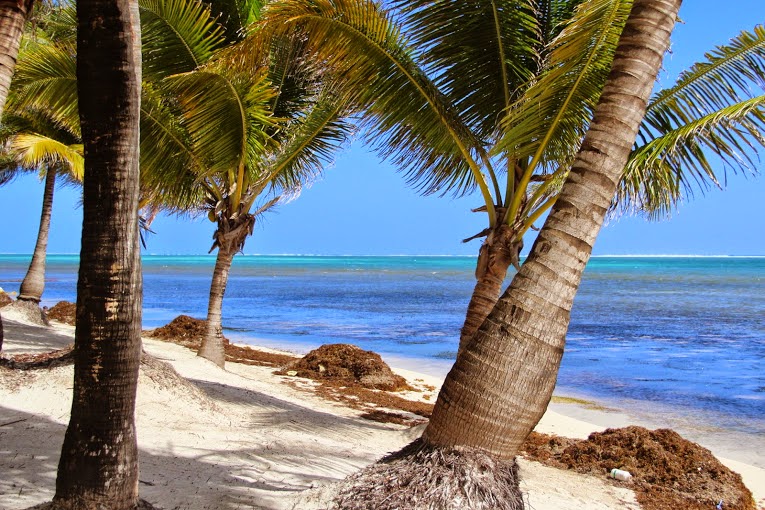 All Inclusive Belize Vacations – 6 Night 'Extreme Adventure': Pricing
Description
Adults
Children*
Family**
Extreme Adventure All Inclusive Package
$1,760
N/A
N/A
* Children 11 years and younger

**Family Package is Based on 2 Adults and 2 Children, 11 years and younger

Additional Single Traveller Supplement of 35%
Package Price is Per Person and in $US
Package includes all Accommodation, Vehicle transfers, meals, guides, fees and taxes
Other guests may be included on a tour
Private tours an additional $150.00 per tour

**NOT INCLUDED**

International flight costs to/from Belize are not included
Alcohol is not included. Gratuities are not included. Snacks/Drinks outside of meal times are not included
Park Entrance Fees for Day 5 are not included. $10 USD per person for Hol Chan Marine Reserve or $40 per person for Blue Hole

We recommend the following airlines: American Airlines · Continental Airlines · US Airways · TACA · Delta Airways · South West . Copa