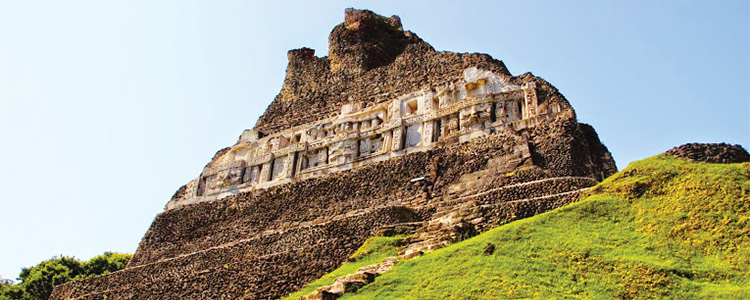 Cayo Two Temple Tour
Mayan Temples Day Trip to the Cayo District of Belize. Available as a Day Trip from our Jungle Lodge or from Belize City (request pricing). Visit Xunantunich and Cahal Pech, 2 Mayan Temples for the price of one.
Cahal Pech Mayan Temples Day Trip
Cahal Pech is located on the southern outskirts of San Ignacio Town in the upper Belize Valley region of the Cayo District, Belize. The site center sits on the crest of a steep hill on the west bank of the Macal River. The central acropolis, approximately 900 feet above sea level, provides a commanding view of the Maya Mountains to the south and the fertile valleys of the Belize River to the northeast
Cahal Pech is a site with an unpropitious Maya name meaning "Place of the Ticks." This ceremonial center includes pyramid temples, palaces, and a ball court. Five stelae and an altar (plain) show presence of the stela cult. Some major buildings were roofed with the Maya vault, some apparently not. There was a gradual architectural growth, the occupation probably running through the entire Classic Period.
Xunantunich Mayan Temples Day Trip
Xunantunich means "stone woman" in Mayan. Xunantunich was a thriving city near the end of the Classic Period (300-900 A.D.) with large plazas ringed with pyramids. The tallest is the 130 foot "El Castillo," which is large by Mayan standards and is only exceeded by the Caana pyramid at Caracol
The center of Xunantunich occupies an area less than a square mile. The center is composed of six major plazas surrounded by more than 25 temples and palaces. The large pyramid, El Castillo, is well known for the frieze or band of stucco decoration which at one time extended around the entire temple.
Cahal Pech and Xunantunich Mayan Temples Day Trip : Pricing
| Description | USD per person |
| --- | --- |
| Day Trip from the Belize Jungle Dome, including lunch | $105 |
| To Visit Xunantunich OR Cahal Pech | $95 |
| Day Trip from Belize City, including lunch | email us |