Jungle Lodge in Cayo District, Belize
Our family run resort, the Belize Jungle Dome, specializes in adventure travel and is a true tropical paradise. Small groups, families and free-spirited individuals can experience their adventure vacation of a lifetime. We are located in the center of Belize (see map), close to all of the major attractions.
Our rooms all feature AC, satellite TV, min-bars,  and free wireless internet access. We have 5 different room options all with pool-side  or garden-view terraces. Why be uncomfortable just because you are going on an adventure vacation? We offer our guests 'exclusive jungle living' and a 'home away from home'.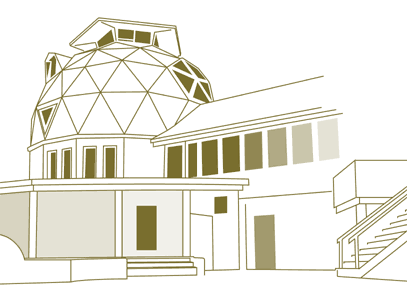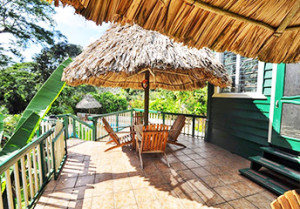 Tree Top Cafe
With beautiful views of the landscaped gardens, including our organic fruit orchard and vegetable garden, swimming pool, plus the Belize River. Enjoy a glass of wine, cocktail, or a cold local Belikin beer after your daily adventures, whilst checking your emails or socializing with the other guests.
Swimming Pool
Soak up the sun then cool off in the ambiance of a breathtaking sunset. Above the swimming pool, the abundant birdlife of the towering Guanacaste Tree provide an amazing jungle soundtrack.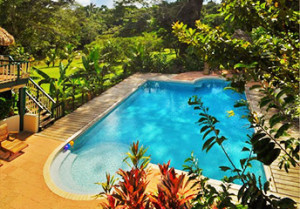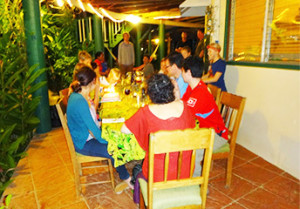 Restaurant
Our Mayan cooks offer a variety of delicious Belizean dishes, mixed with European and US influences. Our home grown garden provides many of the the organic herbs, vegetables and fruits they need. Plus daily fresh eggs from our flock of free-range eggs! Home cooked meals are then served family style (unless otherwise requested) on our pool-side terrace.
Neighbouring facilities
Equestrian Center
Art Gallery and Gift Shop
Small zoo/Wildlife center
The Belize Jungle Dome also offers
Night-time jungle walks
Bike Rental
Bird Watching
Evening-time football/soccer matches on the neighboring soccer pitch
River or pool-side BBQs