Andy & Simone Hunt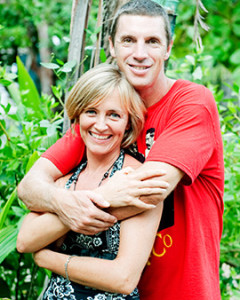 Simone: "We often get asked, 'How did a professional footballer(soccer) player and a former MTV VJ end up owning a jungle lodge in Belize?'
Well, it wasn't a conscious plan, we were simply looking for an adventure. So in 2001 we moved to the tropics without knowing what we were going to do once we got there. For a while we soaked up the sun, developed our property (the Belize Jungle Dome) and did a lot of soul searching and head scratching. Then Andy came with the idea of turning the Dome into a small resort. I thought that sharing our personal space with strangers was a terrible idea. But, as in all things, I have learned to trust my crazy husband and so went with it.
It turned out that his vision was a great one! Instead of 'strangers' invading our space, our guests became friends. It felt like being visited by family we never knew we had. Our staff become family too, and it is a continued pleasure working alongside them."
Life before the Belize Jungle Dome…
About Andy Hunt
Andy was a Professional Soccer player for 10 years in England, playing for Newcastle United, West Bromwich Albion and finally for Charlton Athletic Football Club, scoring 135 goals in 361 appearances for his respective teams. Including scoring at Wembley Stadium in West Bromwich Albions promotion season (1992/1993), plus finishing league top scorer in Charltons Division 1 Championship season (1999/2000).
Andy's goal tally was 14 for Newcastle, 85 for WBA and 36 for Charlton Athletic. Previous to his soccer career Andy trained in Business and Tourism Management, training he continued throughout his time as a soccer player, completing 4 years of Formal Education in the Tourism industry. Andy now manages 2 websites for the Belize Jungle Dome including www.greendragonbelize.com and www.belizejungledome.com plus writing the Belize Jungle Dome Adventure Travel Blog and coaches football and golf to the children in Belize.
About Simone (Angel) Hunt
Simone worked for MTV Europe for over 8 years, becoming one of the longest serving Veejays hosting 100's of programs from all over the world. She was the face of MTV's Party Zone bringing dance music to the world. Simone also interviewed many of the world's top bands and solo artists through her star-studded career plus releasing 3 solo songs. She has hosted the webcast for the 'Webby Awards' (the Oscars for websites), Several Extreme Sports Awards and was a jury member on the original TV series 'Popstars' from Germany. Simone left the world of television in 2001 when she moved with Andy to the Belizean jungle.
Simone & Andy have two sons, called Lucas and Aidan.